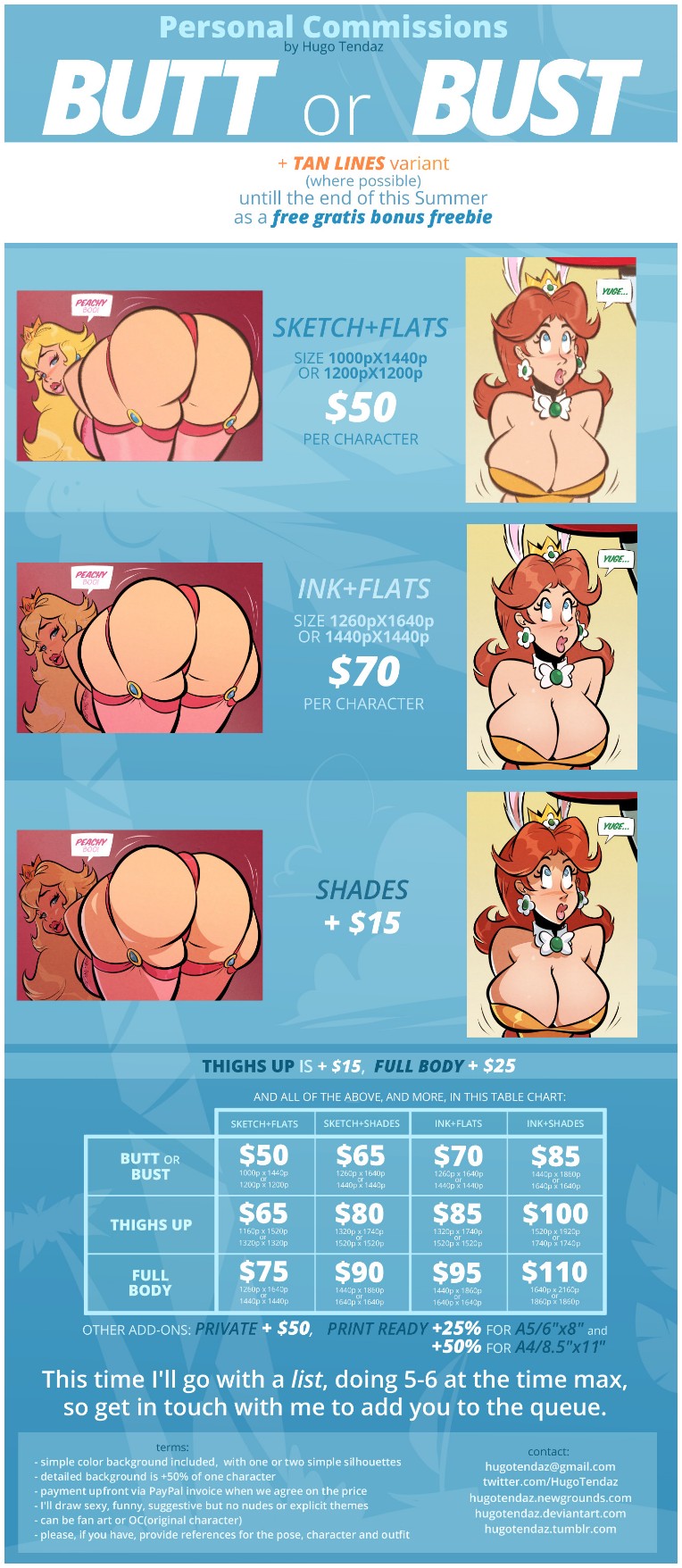 Commissions are opened. Keeping the Butt or Bust :) deal, like the last time, but with added options for thighs up and full bodies too.
And just like last Summer you'll get a free tan lines variant (where possible) till the end of it, to celebrate the good vibes from our big brother the Sun.
One new thing is the queue. To manage my time better and avoid burn outs I decided to go with the list and do 5-6 commissions a the time max. Once I'm done with one batch, I'll go to the next one from the list. At the start I might accept a bit more, if you who asked recently want to get one at the start.
Prices:
Butt or Bust:
Sketch + Flats: $50
Sketch + Shades: $65
Ink + Flats: $70
Ink + Shades: $85
Thighs Up:
Sketch + Flats: $65
Sketch + Shades: $80
Ink + Flats: $85
Ink + Shades: $100
Full Body:
Sketch + Flats: $75
Sketch + Shades: $90
Ink + Flats: $95
Ink + Shades: $110
To make Butt or Bust more clear - Bust is focused on the face and breasts, butt is focused on the booty, with face and breasts partly visible, but you can pick more poses, Peach and Daisy are just examples.
Image resolution varies from sketch to inks, you can see it in the image, and all images are in 72dpi
Private commission is + $50
Print Ready (in 300dpi) can be in A5/6"x8" for +25% or A4/8.5"x11" for +50% of the base price.
After the payment is sent, process goes usually like this - a couple of rough, small concepts - feedback - sketch - feedback - inks - feedback - colors.
Terms:
- >18yo characters, both fan art and original characters.
- No background, but I can add 1 or 2 simple silhouettes.
- Pinups can be suggestive, sexy and provocative, but no nudity.
- Price is per character with payment upfront via PayPal invoice,
- One simple object like gun or carrot is included in the pinup,
 but complicated objects need a little extra.
- I reserve the right to post the image, you can post it also, but link to me.
- Please provide references for the pose, character and desired outfit.
If you agree with the terms above you can contact me here or via:
https://twitter.com/HugoTendaz
https://hugotendaz.deviantart.com
And if any of you have any questions/suggestions feel free to ask in the comments or via messages. Let's make some tan lines this Summer! :)